Pretty stressful day at the office, Country Sales lagging behind the projections...reach home thinking will make some Cauliflower as a delicious side dish to Rice n Rajma and suddenly realise I had used the last few drops of the last Sunflower oil bottle yesterday, had forgotten to buy oil as I drove home today and on top, no butter in fridge as well.
Just as a bit of nerve starts taking control, Cruiser deep breathes, says to himself,"Calm Down, Calm Down..." and tries his tried and tested formula of always getting a hearty laugh!
YESSS...cruiser switches on his Isko Laga Daala, Toh Life Zhinga Lala, TATA SKY PLUS and straight away dives to great Comedy channel, INDIA TV!
...(For whatever reason they insist on being called a News Channel)
...and there it goes...
**Those of you who are INDIA TV Victims, know well how it's announcements are made and how they manage to keep you on tenterhooks for hours together! For those who have never watched INDIA TV...you just don't know what you are missing in life!
INDIA TV SCREAMS AS IT COMES ALIVE ON MY BIG PLASMA SCREEN:
BREAKING NEWS...
""Aaj Shaam 6.02 Baje. Dekhiye Kaise Kiya Balaji ne match fix! Ji haan. Balaji ne kiya hai Match Fix. Bahut Bada Match Fix Kiya Hai Bala Ji ne. Laxmipathy BalaJi nikle Match Fixer!
...
...Laxmipathy BalaJi jinhein diya poore desh ne pyaar. Balaji jinhone antar-rashtriya star ki cricket kheli hai Bharat ke liye, Taminadu ke liye, aur ab IPL mein khel rahe hain Kolkata Knight Riders ke liye. Jaane mane khilaadi hain Laxmipathy Balaji jinhone kiya apna Match fix!...
...Sirf Balaji hi naheen! Match kiya fix Cheteshwar Pujara ne bhi.
...Match fix kiya Ravichandran Ashwin ne bhi. INDIA TV pe dhamaakedaar BREAKING NEWS!
INDIA TV karega pardafaash! Sirf INDIA TV par hogi ye Breaking News, aaj sham 06.02 Minute par.
Lekin philhaal jaari rahega ye special programme. Ji haan. Aap Dekh Rahe hain,
UFO ne aasmaan mein kheench li gaay!
Ji haan, ye khauffnaak haadsa hua Mexico ke ek gaanv mein jahaan Eduardo naam ka kisaan apni gaay ghaas charaane laaya thha ek paahadi ghaati ki taraf...
...Eduardo ne pee li ek bottle sharaab, aankh lagi hi thhi ki dekhi bhayaanak, aankhon ko chaka-chaundh kar dene waali Roshni.
...
...Eduardo ne dekha Aliens ka vimaan.
...
...Ji haan Vimaan dekha Mexico ke ek gareeb kisaan ne.
...Dharti ka naheen, kisi anya Griha se aaya thha ye Vimaan!
Vimaan se nikle thhe aliens.
...
...Aliens jinhein chaahiye thhi Eduardo ki gaay!
...
...Ji haan aliens hain Gaay chor.
Chura le jaate hain maasoom Gaay.
-------------------------------------------------
---------------------------------------------------------
--------------------------------------------------------------
OK, Cruiser got tired of INDIA TV and went for a game of Tennis and a swim. (and for a couple of bottles of sunflower oil, a slab of butter and some Orange juice as well...)
Came back three hours later, God knows what happened to UFO's aliens or rather to poor Eduardo's poorer Cow.
Thank God, I missed the long suspense they must have created on Match Fixing by Balaji, Pujara and Ashwin, because they must have tortured the viewers and callers enough and were actually revealing the Fixing details
:
...INDIA TV bataana chaahta hai ki Balaji ne kiya hai apna Match fix, ramp model Priya Thakur ke saath!...
...Ji haan, Bala Ji ne kar li hai Sagaayi. Balaji ki ho gayi hai Engagement. Balaji Ka MATCH FIX!...
Dekhiye Balaji ki daanton ki chamak...kaise khushi se chamchama rahe hain Balaji ke daant...
...Chetshwar Pujara ne kar li hai Shaadi.
...Unka bhi ho gaya MATCH FIX!
...Cheteshwar Pujara ko catch kiya hai Puja ne! Pujara ban gaye hain Pooja Ke Pujari!
...Dekhiye ye tasveerein...
...
Pujara ki ho gayi Pooja safal. Pujara kar rahe hain Puja ki Pooja! Pujara ka bhi MATCH FIX!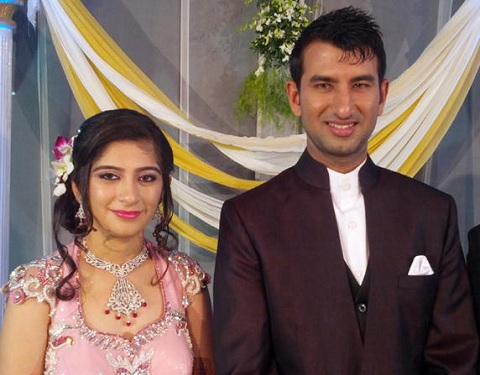 Carrom Chandran Ashwin ka bhi Carrom khelna hua band! Carrom Chandran ko stump kiya Preethi ne. Preethi ne li Ashwin ki wicket aur Ashwin ka bhi go gaya Match FIX!
Ahhh...what would I have done but for my Stress buster...the one and only INDIA TV!
But for it I would have been brooding over the sagging sales figures of my Business operations..., cursing myself for eating plain Rajma-Rice just because I forgot to bring home the Sunflower oil and butter as I drove home...and would have lazed around thinking stuff all negative!
I went down cheerful, brough oil, juice and butter, made some nice Gobhi ki sabzi
as well and had a dinner sporting an ear to ear grin!
THANK YOU INDIA TV...adore you!
********************************