Sneak Peak of EXTRA INNINGS (Pre Match Show)
IPL 2013 FINAL Chennai Super Lungis vs Neeta Bhabhi Hugz Team Mumbai, at Eden Gardens Kolkata
Jhamping-Jhapaak, Jhamping-Jhapaak, Jhamping-Jhapaak, Jhamping-Jhapaak,
Jhamping-Jhapaak,------------------------------Gili Gili Aye-O!!!
Jhaming-Jhapaak, Jhamping-Jhapaak, Jhamping-Jhapaak, Jhamping-Jhapaak,
Jhamping-Jhapaak,------------------------------Gili Gili Aye-O!!!
And the show gets unleashed on viewers!
MAREEZ RAJA (Looking Sick as ever):
Good evening ladies and gentlemen, Assalam-waleikum sabhi ko, aaj hai Final ki shaam, --------------------------Tonight is the big night...The Big Final between Chennai Super Lungis and Neeta Bhabhi Hugzz Team Mumbai. --------------- Qualifier-one mein Delhi ke Ferozeshah Kotla Maidan par Lungiyaan lehraayi thhi aur Mumbai ki team ko karaari shikasht ka saamna karna pada thha. -------------------------Dekhna hai ki kya aaj ek baar phir, FINAL Mein, ------------Kolkata ka Eden Gardens Aasmaan mein lehraati hui Peeli-Peeli Lungiyaan dekhega, ya phir is baar Neeta Bhabhi Mumbai ke har khilaadi ko Jhappiyaan, Pappiyaan dengi------------------------------
JUMPING SIDHU:
-----Brrruaaah!!!! Oye Main kehta hoon Pretenders have been kicked aside,
Contenders have come to the forefront!
------------------Dekho Mareez, ---------Jungle mein Maindhak poori raat tarraya karte hain, Sher sirf ek baar dahaadta hai-----Oye Sher dahaadta hai, jab Sher shikaar pe nikalta hai! Aur aaj muquabla hai Chennai ke bahadur Sheron ka, -----Mumbai ke furteele Cheeton se------Oye!
MADIRA BEEDI (special guest---giggles foolishly): Hehehehe! Sidhu Paa Ji, Tiger roars not just for hunting.
It roars giving a mating call as well.
Hehehehe
JUMPING SIDHU:
hahahahaha! Oye----Oye, Chha gayi kudiye, chha gayi tu.
----Hahahaha! Magar ye Cricket hai Mohtarima, koi Mating-Dating ka kissa naheen.
Aaj hoga asli muqabla, koi faaltoo nautanki naheen---thoko taali------khataak!
(Creative Director in background angrily releases his white handkerchief and the half asleep guy on Drums, wakes up and beats them maniacally----ending with a sound of DHISSHHH)!
MAREEZ RAJA (Sunken eyes X-Raying Madira Beedi):
Madira Ji, kya lagta hai aapko? -------Kis team ka palada bhaari lag raha hai yahaan -----(lecherous gaze fixed 30 Cms below Madira Beedi's chin level now)------kaun si team jyaada mazboot lag rahi hai aapko---(looks slightly towards right), Chennai Super Lungi ki, ..(now looks slightly towards left), ya phir Neeta Bhabhi Hugzz Team Mumbai ki?-----(tongue wipe over lower lip,
as he completes the sentence)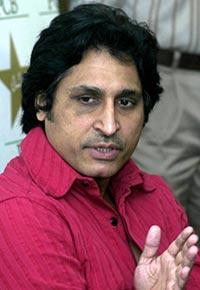 MADIRA BEEDI (Fully aware what Mareez is up-to, quickly adjusts her Sari Pallu over her noodle strap blouse):
Hehe! Mareez Ji I am a proud Mumbaikar, Mumbai meri jaan hai, Mumbahi meri dhadkan. --------------------Bhai, mere hisaab se toh aaj Mumbai ki shaam hai, Mumbai hi jeetegi. ---------------Poora dabaav, Chennai Super Lungis par hoga. Kyun Sheryy Paa Ji?
--------------Don't you think Chennai team would be under pressure going in the final and with added pressure of having to win the title one more time?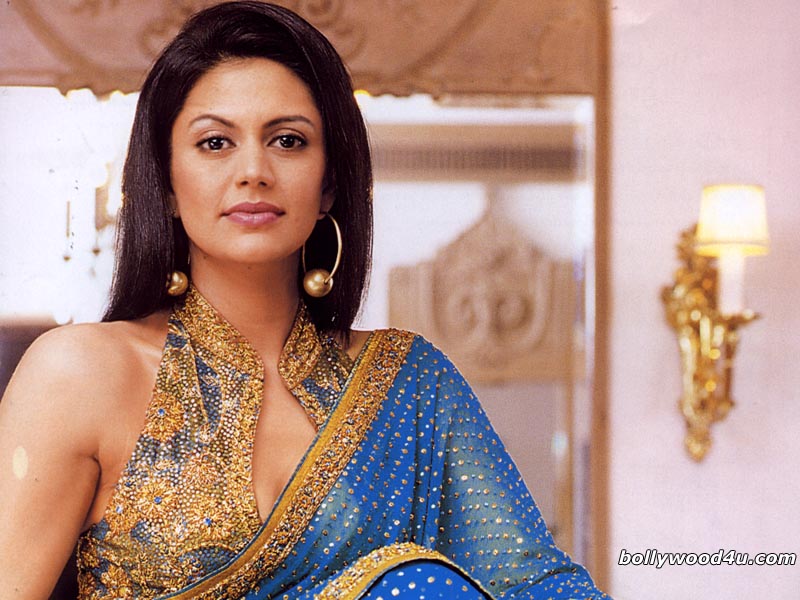 JUMPING SIDHU (leaps up in air, descends back and says): Oye Madira----Samundar mein susu karne se Tsunaami naheen aati,
Meindhakon ke tarrane se Sherni naheen ghabraati!
------------------------ Peeli Lungiyaan hain IPL Ki shaan, 100 Mein se 99 Be-imaan, Magar phir bhi mera Bharat Mahaan
--------
------(Drums get smashed and cacophony ends with a DHISHHH sound)------
(Sidhu Continues)----Dekho, Chennai ki team kayi baar IPL jeet chuki hai, kayi baar Final ka pressure jhel chuki hai! Chennai ke Veer khara Sona hain, Khara Sona. ----------Mumbai, in the end could turn out to be simple Brass,
once again proving all that glitters is not Gold and if you are weak, even summer can give you Cold------thoko taali-khataak!
(Drums get mercilessly smashed once again'!)
GAURAV KAPOOR (wakes up):
----- Hmmm, waah Sherry Paaji, Waah! All that glitters is not Gold and a weak immunity guy, even in summer can catch cold----aaak-chhheen
-- (Violently sneezes and his reddish nose is confirmation enough he is in a Ye kya haal bana rakha hai, kuchh lete kyun naheen state).
----------Well, ladies and gentlemen, we are taking you straight to the ground now where gorgeous Karishma Kotak is with ferocious Danny Morrison.
KARISHMA (in her distinct nasal voice):
Aaunchh! --------Punt meen down, Punt Meen Downn--------Aaunchhh Dannnyyy!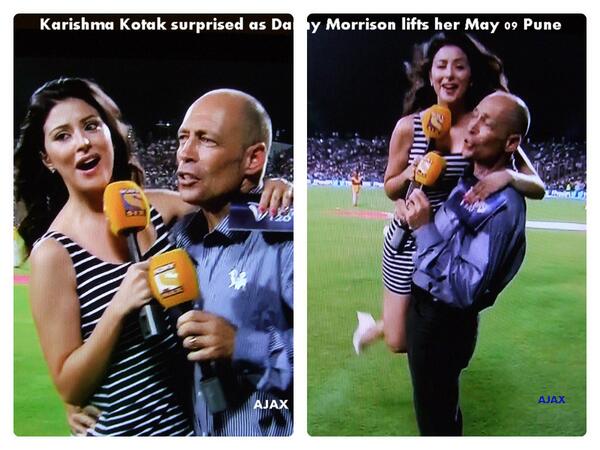 Reluctantly Danny puts down his prized catch and is hungrily staring at Karishma, who quickly tries adjusting her miniscule dress.
GAURAV KAPOOR (After another sneeze): Karishma, how does it feel to be out there? Kaisa lag raha hai aapko maidaan mein is waqt?
KARISHMA:
Onhh Gauranv! ------Its anbsolutely wonnderfunl! 70000 Kolkata fans hanve pancked the standium already and they are drooling at me as if I am a Rohu Fish fronm nearby Hoonghly River! '
JUMPING SIDHU (leaps 4 feet off his seat and lands with a thud and clap on table):
Oye! Hahaha! Oye Karishma! Hahaha! Kolkata fans imagining you like a delicious Rohu-Hilsa fish?
--- Chhaa Gayi kudiye Chha gayi? Accha lag raha hai tujhe? Hain??
Hahahaha
KARISHMA:
Haan Sindhu Jeen! Thora-Thora...Thora Ye, Thora wo!! ---
MAREEZ RAJA (Lifts his gaze
off Madira Beedi's assets and asks): Danny Eden Gardens is perhaps the most majestic ground in world, absolutely electrifying atmosphere it must be out there. What would you say to the great cricket fans of Kolkata?
DANNY (Roars as only he can):
Kolkaataaa, Aaare you readyyy?
70000 Bongs Respond in a chorus:
Dhoor Saala!
IPL Cholbe Naa, Cholbe Naa!
----------Sourab Ganguly Zeendaabaad-Zeendabaad! -----Sreeneebhaashan Moordabaad, Moordabaad!
--------Gautom Gomebheer Waapish Jao, Waapish Jao!
Sourabh Ganguly Ko---Waapish Laao, Waapish Laao!
---IPL Cholbe naa, Cholbe naa!
In panic Camera team cuts the shot to inside studios, where for no apparent reason, they have started playing Munni Badnaam Hui, Darling Tere liye.
Half a dozen Cheerleaders are gyrating their bums towards the cam that is supposed to be viewer eye. Madira Beedi gets up and starts her thumkas and Sidhu has squeezed in his out of sync Bhangra steps-------with his every 5 second Brrruuaaah-Brrruaaah war cry-----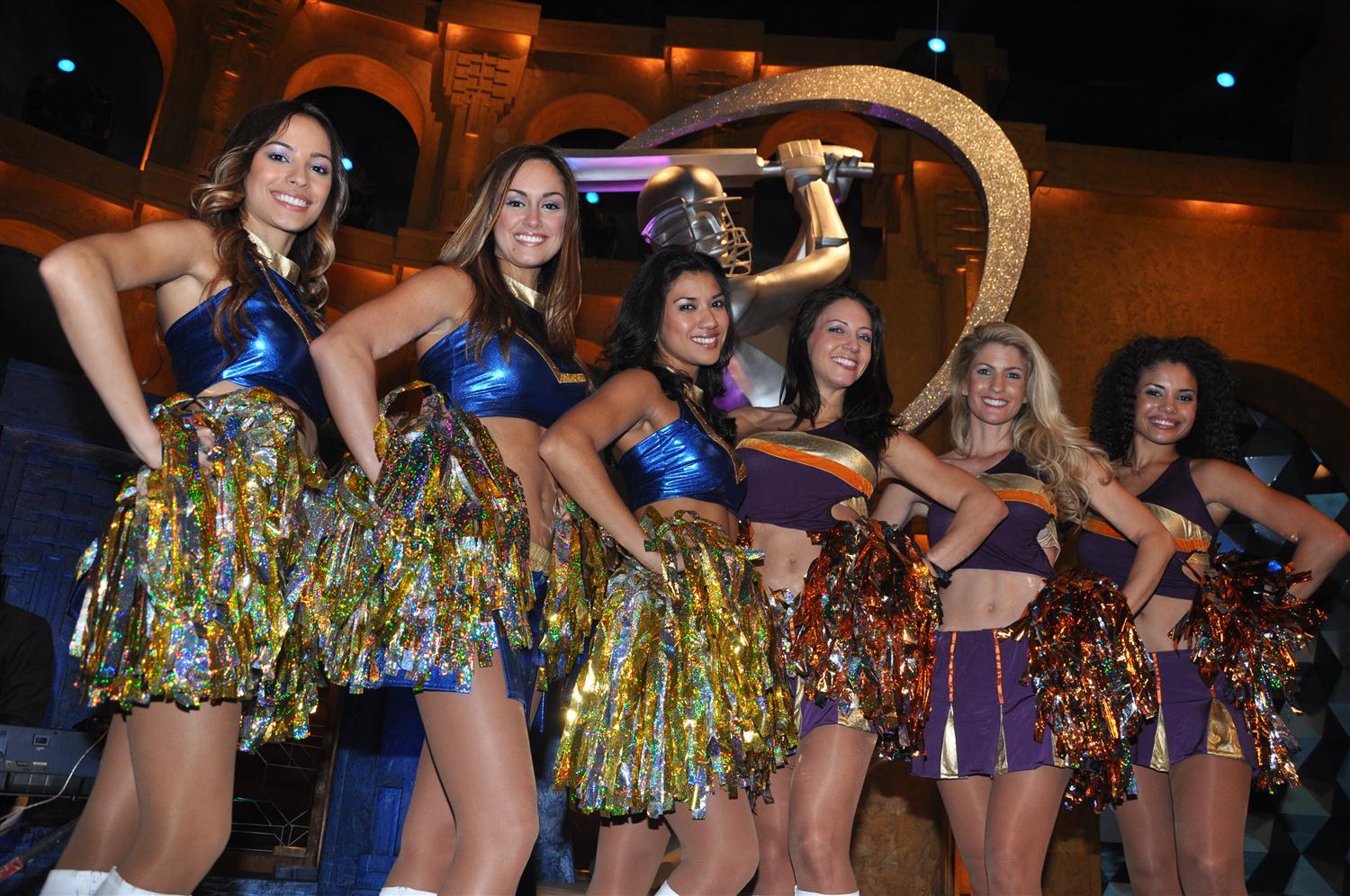 Mareez Raja wants to grab Madira Beedi by her waist and do a tango together, but is wary of resultant backlash back home in Lahore.
With sulky looks and fake smile his gaze is alternating between assets of two cheer-girls right in front of him and Madira Beedi's puppy fat around her waist---------------------Someone who has no idea of what Mareez is up-to, would be forgiven for imagining Mareez is watching a game of badminton.
And thus will continue the super show, with some great comments, Cheer girl thumkas, Sidhuisms, Toss and thereafter the game''
Brrruaaahhh!! ------------Thoko Taali----Khataaak!
********************************