SUBAH 10.30 BAJE:
Big Boss Voice Over:
Yahaan kucchh sadasya -----Pool ke as-paas baithe hain,--------- aur Rajat, behad-- Bhaavuk nazar aa rahe hain.
RAJAT (Sobbing):
Mujhe, mujhe-----(sob-sob)
"Mujhe---
ARMAAN: Abey kuchh bolega bhi?
RAJAT (Breaks down crying):
---Beti ki yaad aa rahi hai! Whaa-whaaa-whooo-whooo!
ARMAAN (Hugs Rajat):
Naa Rajat naa! ------Rotey naheen please. ----------Main baat karoonga Big Boss se ki tujhe milwaa dein apni beti se.
RAJAT (Blows nose hard):
Sob sob! -----Thanks Armaan. ---Agar Big Boss naa maanein,
--- toh please -----toh please-----
----------chaar samose---- ya chaar Bread-Pakore maang lena mere liye-------whaaa-whaaa-whooo-whooo!!!
--------------------------------------------------------------------------------------
SUBAH 11.45 BAJE:
Big Boss Voice Over:
Rasoi ghar mein Shilpa, ghar ke sadasyon ke liye daal bana rahi hain,--- aur paas hi Andy, Anita se baat-cheet kar rahe hain!
ANDY:
----Hawww! ----Bataaiye na Anita Ji. ------Jab pehli baar Rajesh Khanna Ji aapse mile thhe toh unhone aapse kya kaha thha?---Hawww, bataayiye naa----
ANITA (Blankly staring at wall in front):
Kuchh baatein, bataayi naheen jaati Andy...
ANDY:
Oh God! Awww!!!----I do badly want to know naaa! Please batayiye naa!!! Awww---please---
ANITA (Sad looks, starts chewing Baba Zarda in her mouth):
Unhone kahaa-----(Pause)----
ANDY (eager like a greedy kid for Gulab-Jaamun): Haan Anita Ji. Bataayiye naa---
ANITA:
Unhonein kahaa ki----(Pause)
ANDY:
-----Arey kya kaha baba-------------ufff I am dying of curiosssittty----
ANITA
(Chews Baba Zarda a few times &): : Unhone kaha ki-------Khair!
----------Jaane do Andy. Ye kissa phir kabhi sahi. ----------Kaha naa, kuchh baatein bataayi naheen jaati------dil ke andar rehti hain aur meetha meetha dard deti rehti hain!
Big Boss (Voice over):
Anita uth kar rasoi mein chali gayi hain aur Shilpa ka haath bata rahi hain. -------Andy, Sofe par behosh pade hain.
--------------------------------------------------------------------------------------
SHAAM 08.15 Baje
Big Boss (Voice Over):
Yahaan Jannat aur Jahannum ke kuchh sadasya, Kushal, Gauhar, Armaan, Sangram aur Kamya fencing ke dono ore khade hain aur inmein baat-cheet chal rahi hai!
KUSHAL (Kamya Se): Main ye Mike nikaal kar fenk doonga sacchhi.
----Sabse jyaada har task mein kaam karta hoon, phir bhi----
KAMYA (barely able to conceal her excitement): Haww! -----Aisa mat karo Kushal!
...(extends her hand to take off Kushal's mike)
ARMAAN:
----O Hello! Kya hai be ye? Baaki log sab jhakk maar rahe hain yahaan? Tu hi kaise kaam kar raha hai be TV star?
KUSHAL: TV star kisko bola be?
ARMAAN:
Aur kya bolun? Hollywood star?
Aukaat mein reh tu---
KUSHAL:
---Abey teri aukaat kya hai be 2 filmon ke forcibly retired film star---
ARMAAN:
---Tere ko toh beta bataunga main meri kya aukaat hai. Abhi tu khisak apni ladki ke saath---
GAUHAR: Hello! Mere bare mein baat mat keejiye aap---
ARMAAN:
Abey tere bare mein kaun baat karega?----chal jaa-jaa- vatak idhar se---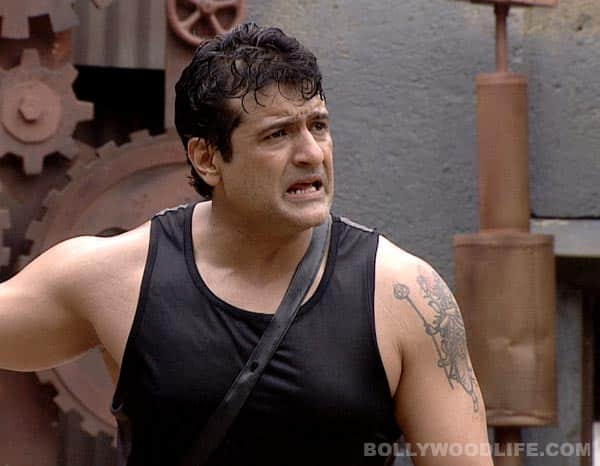 GAUHAR: Tu-tadaak mat keejiye mere saath---
ARMAAN: Abey jaa! Tere se baat hi naheen karni mujhko----
GAUHAR:

Baat karne ki tameez naheen hai Aapko---
ARMAAN:
Abhi aur bad-tameezi karoonga agar fauran chupp naheen hui toh! Chuppp!
GAUHAR: You shut up!
SANGRAM: Kamya Ji, Armaan Ji, Gauhar Ji-----ladaayi mat keejiye, main 2 minute mein waapas aata hoon!
Sangram goes inside, looks around to ensure no one is watching him and speaks to the Bathroom Camera!
SANGRAM:
----O hello Bigg Bose Jee! ------Kuchh logon ko billkul bhi tameez naa hai Chhoriyon se baat karne ki!
---Bas ek din----bas ek din ke liye mujhe ---MhaaaBhaaratt ke Karnaa waali Amogh Shakti de do Big Bose! --------Phir dekkho, kaisse giraata hoon main is Armaan Ghatotkatch ko!
------Please Big Bose----Please Paavar de ddo naa! Ek din ke liye Paavar De ddo Big Bose Ji!------(Once again throws a nervous glance around to ensure no one watched him)----------------Paavar de ddo Big Bose, Paavar please!
Night time shot!
Hazy figures are seen sleeping around in their silvery-white bedsheets and blankets!
BIG BOSS (Voice over): Big Boss ke ghar mein, aaj koi apni Beti aur Samos eke liye roya,----------- toh kisi ne apne dil ka raaz, dil mein hi dafan rehne diya!
-----Kushal-Gauhar aur Armaan ke beech hui ghamaasaan------aur Sangram?
------Hum toh bas yehi kahenge ki Allah Meherbaan, toh Gadha Bhi Pehelwan!
Jhelte Rahiye! Ye Manhoos Programme...Big Baas!